Tensile Fabric Canopy Roof Car Park - Tensile Structure Fabricators at Mysore, Karnataka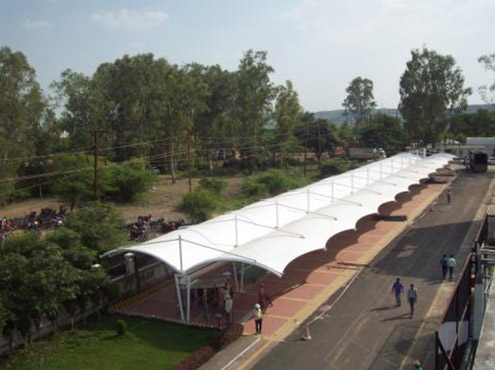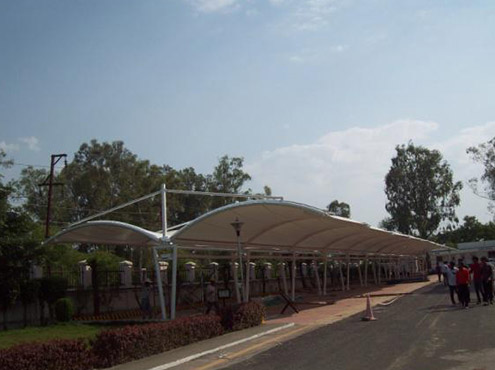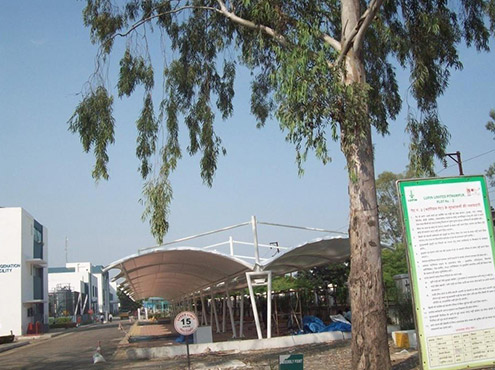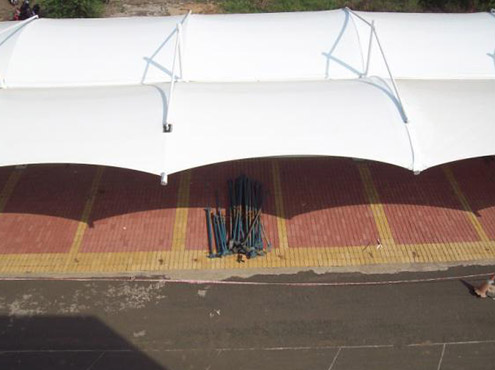 Requirements

A Leading Corporate House in Mysore, Karnataka, India with presence in South & Western India having interests in Structural High Tensile Fabric canopy made with Steel and Tensile Fabric. They were looking for Tensile Fabric roof for Car Park. Artistic roofing solutions, like Tensile Membrane Fabric and Glass Structure Roof were their first preference. Tensile Fabric Fabricator Team Aakruti Tenso was to ensure a Design to gel well with overall Architecture of the Campus.

Area

Gross developed Area of the non-retractable Tensile Fabric Roofing structure at Mysore, Karnataka is 10227 sq. Ft.

Design / Analysis

Once Pre Engineered primary steel structure of Car Park of the corporate house was analyzed, the dimensional detailing of each individual Structural Members was carried out after STAAD analysis depending on the max. Load generated in load combinations. Auto cad 2016 was used with the purpose of Detailing - Drafting, for the proposed Tensile Fabric Roof Shed.

Primary Structure

As per our Tensile Structure Fabricators Architectural Plan, the structure was Rectangular in shape. 4 sides were made by fabrication Steel Truss with hollow pipes 150 X 150 X6 mm, with provision for Gutter, passing through the hollow core. This Truss was fixed to existing Beam with help of HILTI Chemical Fasteners through 20 mm base plates welded to the sides of the Truss.

Fabric Details

The Serge Ferrari 702 S 2, both sides PVDF coated PVC fabric was patterned parallel - in all 54 patterns. Wire Rope was used to fix fabric along all its fixed edges. The fabric being Large, was split in to 2 parts.

Installation

Local Vendor was appointed to carry out epoxy coating/sand blasting & subsequent P U Painting of roof of lightweight tubular steel structures with Tensile Fabric Structure Roof cover for the Car Park of Corporate House. By the time the Painting was completed at the proposed site, the fabrication process of Tensile Fabric Membrane on RF Fabric Welding machine was side by side completed in less than 1 week.
The PVC coated fabric was delivered at site (Corporate House at Mysore, Karnataka, India) from Mumbai.

Project Engineer
Aakruti Tenso Structures & Façade Pvt. Ltd., Mumbai
(Including design, fabrication and installation)
Client
****** ( As part of Non Disclosure Agreement terms )
Date/Month of Installation
December 2017
Requirement
Fabric Roof for Car Park Area
Size
10227 SQ. FT.
Span
Design
Design detailing Team: Aakruti Tenso structures & Façade Pvt. Ltd.
Fabrication
By Aakruti Tenso team of engineers & craft-men at our Fabrication shop & at the site
Installation
In-house team from Aakruti Tenso structures & Façade Pvt. Ltd.