Tensile Fabric (Membrane) Roof Structure Vault for outdoor play area for International Pre-primary School in Lucknow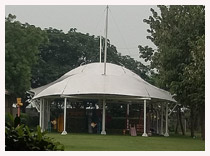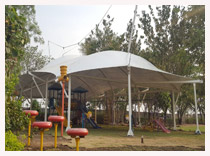 Requirements

Many of the International School operating out of Tier - II, Tier - III cities and from education hub like Kota, Ooty, Mussoorie, Dehradun, Coimbatore, Indore etc. have and are very keen on Infrastructure, safety and world class facility.
One of the esteem group having more than 200 schools (international schools, CBSE Schools, IBSE Schools , World School) under its umbrella had imported outdoor play equipments which are to develop various skill sets while playing. They needed a special roof or we can say a shade sails with hyper anticlastic fabric / PVC coated Tensile fabric.
Due to limited hours available to work for pre-school in Lucknow and outdoor weather conditions being either too hot or too rainy required all weather roof over the equipment, besides increasing the life of the equipment, it was need for toddler kids.
Challenge

Large span 20 meter to 40 meter * 56 meter column less are near with highest equipment point being 6.5 meters (A rope bridge connecting 2 towers) , keeping safety of infant kids in mind while Manufacturing Tensile Fabric Structure.

Area

The area of Tensile Structure in Lucknow was around 20 meters * 40 meters * 56 meters = 8900sq.ft.

Solution

To ensure 6.5 meters clear height at almost all area, we decided to keep complete structural system like trusses out.
We suggested Arc beam of larger diameter - hollow circular ERW pipes with cable link system, ensuring sufficient rigidity and strength.
We avoided stay rope for each 14 columns, (other wise 28 stay ropes) by pulling all overhanging structural membrane to the same column foundation.
The leading design in India is vaults supported by curved Arc beams suspended from steel columns. The Arc beams pushed up from inside, we decided to pull outwards from series of cables suspended with 2 large masts with help of steel wire ropes type cable strayed bridges as seen in upper reaches of Ganga and other rivers.

Design /Analysis

In Lucknow, India, the Canopy for outdoor play area of International school, state of Modeling and Analysis system simply will not work due to large deflections observed both in the supporting cable as well as in the Tensile Fabric Structure.
Our Tensile Structure Manufacturer team modeled a cable strayed bridge which support series of Arc beam, supported at the end on A FEM design software. The software high end originally developed for space agencies develop complete matrix and calculates most stable design form for a given pretension after thousands of iterations.
The area (play area of international school where they want Canopies in Tensile fabric or fabric shade with lightweight structure) experiences cyclonic conditions in open air especially during late summers, evenings, with wind speed crossing 110 km/hr.
We followed local wind code for the design wind speed. Rest of the codes were British / European codes as the local design codes for Tensile Fabric Structure do not exit.
Extra factor of safety were added while making canopies in Tensile fabric a PVC coated fabric with light weight structure as it is a public place for young kids with sprawling open space along all sides. Final converged model was further analyzed on STAAD Platform for designing sections of individual primary structure.
Dia 350 mm * 8mm Arc beams supported pin joint on top of the steel column Q219* 8mm = 30 meter height. The founds of Fabric were supported on cantilever straight beams. Along the longer side 18 to 20 meters from each 10 steel columns and by 2 horizontal 5meters beams along the smaller edge the beams in 'V' form supports the high 8 meter to 6 meter. Mast supporting complete cables pulling each of five Arc beams up wards.

Fabric

Due to smaller sizes type II 1000 gsm fabric from any of the reputed fabric Mfg could be used. For Lucknow we have selected SATTLER fabric type II with bi – axial test connected specially for the batch of selected Fabric.

Installation

Moderate height and access from acc 4 sides made initial fabric lifting laying operations easier. The fabric touching arc beams needs puncturing to allow twin ropes lifting the beams upwards.
The Arc beams needed temporary support from inside when the PVC coated fabric was slitted and the supporting rope were loosened.
The caternary edge, were of 22mm galvanized wire rope with swaged ends MBZ for each of the fabric segments between anchor points.

| | |
| --- | --- |
| Project Engineer | Aakruti Tenso Structure and Facades Pvt. Ltd., Mumbai (Including design, fabrication And installation. |
| Client | Public School |
| Date Year | January 2017 - March 2017 |
| Requirement | Acc Day Play area for Pre-primary International School. |
| Area | 8900 Sq.ft. plan |
| Design | Design detailling Team, Aakruti Tenso structures & Façade Pvt. Ltd. |
| Fabrication | By our team of enginners & craftmen at our Fabrication shop, & at the site |
| Installation | In house team from Aakruti Tenso structures. |