Tensile Canopy/Fabric Canopy Derasar/Temple in Surat Gujarat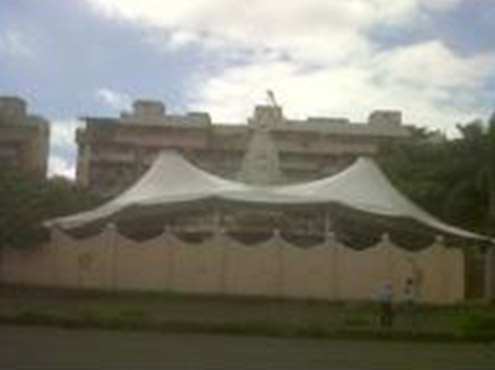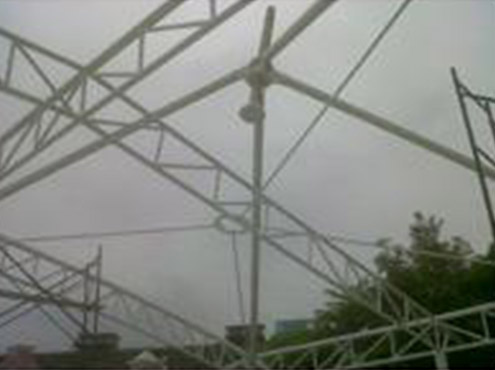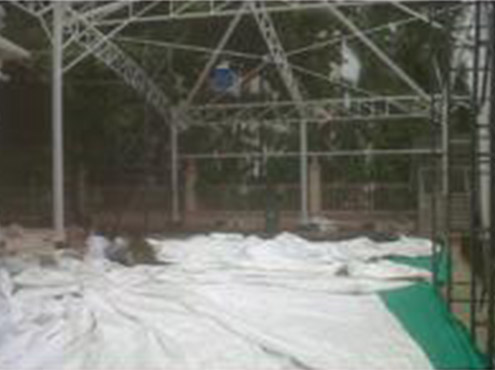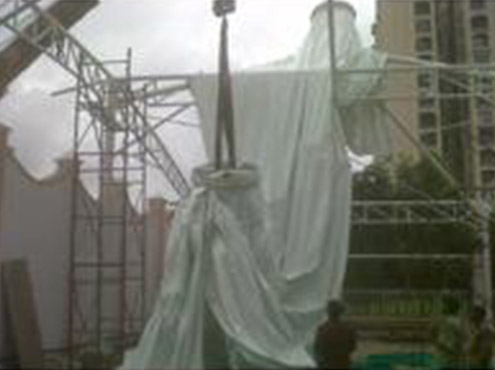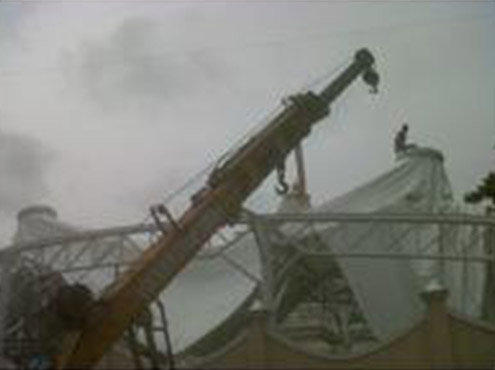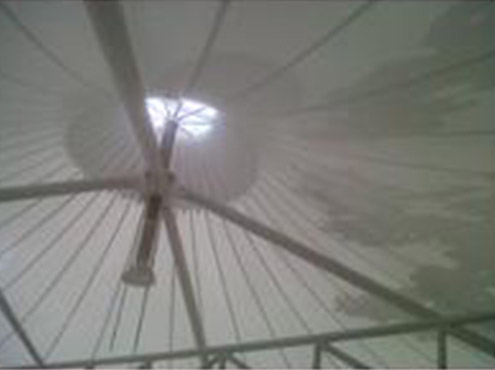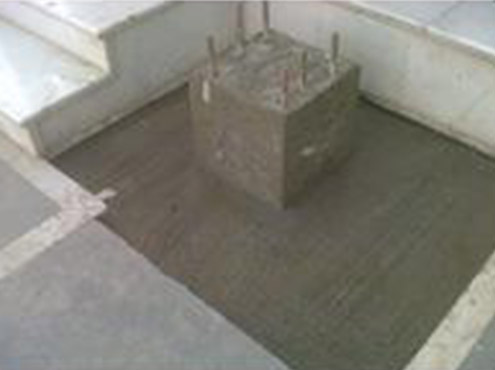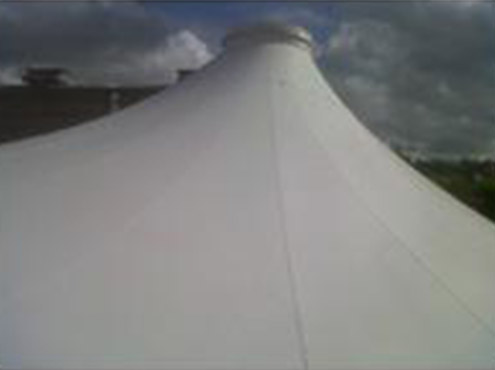 | | |
| --- | --- |
| Project Engineer | Aakruti Tenso structures & Façade Pvt. Ltd. |
| Client | Jain Deravashi Sangh Trust |
| Date/Month of Installation | Jul-18 |
| Requirement | To cover open Area available behind the temple building for various community functions |
| Size | 6400 sq. ft. floor Area |
| Span | 64 feet X 100 feet |
| Design | Aakruti Tenso structures & Façade Pvt. Ltd. |
| Fabrication | By our team of Engineers & Craftsmen |
| Installation | In-house team from Aakruti Tenso structures |

Requirements

A Jain community temple (debaser) in Surat, Gujarat with open space of about 6400 sq. Ft. which is utilized every year for 'Chetrum's' festivals in monsoon by having temporary tarpaulin covering & for various religious functions round the year.
Every time a temporary shade would be created, & subsequently dismantled.
Lots of resources were wasted in artificial lighting as the temporary structure would block the natural light fully.
So the need or requirement was to keep the feeling of open nests at the same time protect against the climate (Rain/ heat) , maintaining natural light, .
challenge

To maintain Architectural harmony with Temple Architecture which is strictly followed as per specifications mentioned in Jain religious literature, as well as serve as functional roof? The area to be covered being just adjacent to existing temple structure, which cannot be used for structural support, digging foundation was a challenge. A bigger challenge was to connect the 2 structure seamlessly ensuring water tightness all the time.

Area

The area, which was open about 6400 sq. Ft., measuring 64' X 100'approx

Solution

After exploring various alternatives in other media like metal roofing, polycarbonate roofing sheets, Fabric, conventional Tarpaulin etc., also keeping in mind strong legal consideration to construct a covering for an open area within the law,
To lay men, Fabric structure usually would mean a Awning or canopy one see outside commercial shops. With growing presence of Fabric Canopy structures in Airport, stadiums, malls etc. With little visualization support, (Presentations involving Form finding) the client agreed to explore the tensile fabric structure for various possibilities
Initially series of 3 cones as the possible design form was taken up, but as the central cone directly clashed with the temple 'Shikhar' or dome. Also area being rectangular, with more or less suitable aspect ratio, twin cone idea was finalized.
For selecting suitable fabric roofing material, a quick cost /Utility analysis between PVC coated fabric & PTFE high tensile fabric, considering the expected life span, cost, climate, boundary conditions , PVC coated fabric from Ferrari 902 TX 30 (Type 2) was selected.
The Rain water had to be directed towards the smaller sides, as the longer side was directly touching the temple. To achieve this the longer trusses were proposed to be an Arch beam, there by achieving additional structural strength.

Design /Analysis

Detailed Analysis of the structure was carried out with internationally acknowledged FEM software. In absence of Local codes for Governing construction of tensile membrane structures like canopy, awnings. British standards were followed to generate wind loads depending on geometry, height of structure, height from sea level, distance from sea, surface roughness, topology, etc.
Once structure was analyzed, the dimensional detailing of each individual structural member were carried out after STAAD analysis depending on the max. Load generated in load combinations. Auto cad 2011 was used for drafting purposes

Primary Structure

The primary structure was developed with hollow tubular sections, keeping Architectural aesthetics in mind. The main supporting columns at the outer edges were fabricated from 300 dia. x 8 mm ERW steel tubes.
The connecting beam Trusses( both long side, short side) were fabricated out of build up sections using Dia. 115, Dia. 90, Dia. 60 mm C class ERW hollow pipes. The central ring for the each of the 2 cones were supported by 4 radial struts, each having dia. 165 X 6 mm. The junction box also houses the vertical mast supporting the Bail-Ring.( Dia. 1200 mm)
Fabric details

The Ferrari 902 TX 30 (Type 2) fabric was patterned radically in all 36 parts, to absorb higher stresses towards the Ring center. The fabric was reinforced with another layer of 902S membrane patterned in a petal shape, which on final welding, generates shaded floral pattern.
For fixing the fabric edges to structural members extruded Aluminum profiles were used. Steel clamping plates were used to clamp 2 cones together at site before installation.

Installation

As access to the covered tensile area was not available from Jain Temple site in Surat, Gujarat, 150 feet tall cranes were called for services from the highway end. The Installation was delayed thanks to pre-monsoon Rains on almost daily basis. Hence it was very important to start installation on a fairly clear early morning & wrap up installation along with major pretensioning by evening. In about 5 hours, the membrane was erected at site successfully.

Initial ground
CAD structure proposed, rendered image,
Structural detailing, steel(ready painted structure)
Top ring detailing
Damroo etc
Cross bracing.
Installation stage wise images:

Fabric on floor,
Lifted by a crane
Ring 1 fitted
Ring 2 fitted.
Fabric being tensioned
Final views (3 views)