Tensile Fabric Structure Roof at Andheri Sports complex Swimming pool viewers Stands, Mumbai, India.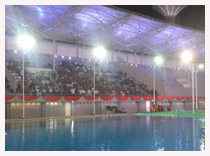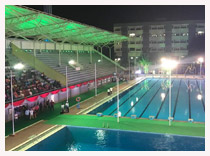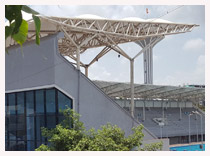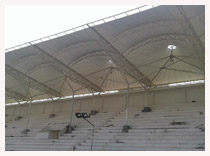 Requirements

An Olympic size swimming pool for Diving and Swimming for state and national level championship Tournament games commissioned almost 20 years back. Designed by Architect Mr. Shashi Prabhu, the swimming Pool Viewer's Gallery design included Stands Spanning 17.0 meters to 20.0 meters wide length of 175 .0 meters along 2 faces of the pool.
The standard designing possibly had thought of Loads generated once roof is installed on the stands.
The requirement now was to cover the Swimming Pool Stadium Stands with PVC coated fabric by taking support from existing columns - Grids with media as light as possible with enhanced Architectural Ambience.
Challenge

The drawing of the existing structure then designed - Drafted manually on a drafting M/C with no soft copies available with BMC or the Architects. In fact, we could only get few fainted copies with limited information. The area of swimming pool stadium Viewers stands in Mumbai (Andheri) does not have any access to large cranes from any of its 4 sides for material handling & steel structure & Tensile Fabric erection as required as we progress on execution of the said project.

Area

Plan area of This Non - Retractable Tensile Fabric Structure Roof at Mumbai, India is 36000sq.ft. Plus

Solution

The structured agencies were appointed to verify conditions of existing structure. The RCC was found to be in excellent condition and accurately planned RCC column - beam for the whole stadium roof in modern fabric.
As the seating area gradient was having almost 45 degree rise, we suggested 2 rows of columns supporting 3D trusses fabricated which in turn support the Tensile Fabric (Membrane) on the top.
After exploring various designed forms of light weight structure with PVC coated Fabric, we freeze on cones - vault combinations (pitch of column - column distance was 9.0 meters)

Design / Analysis

For Andheri (Mumbai, India) we selected design forms of cones with 2 end to end Vault for each of the bays. The design form has been modeled on high end FEM analysis Software after going through No. of iteration were carried out to get most stable design form with forces with balanced stable design model, and artistic roofing solution with Tensile Fabric. Deflection under wind forces (as per local Mumbai Design codes) within the permissible limits, keeping overall primary structure stable.
The design of Tensile Canopy Structure was analyzed at wind speed of 39m/s. The result of FEM Analysis for tensile canopy structure in turn were further Vetted in static STAAD Platform for individual steel members designing.

Primary Structure

Our Tensile Structure Fabricators team selected 3D trusses made of circular Hollow ERW pipe with YST 310. Take each of the 20 odd trusses were in turn supported on 4 struts (on pin joint) originating from top of 2 columns ( one with height 3.0 meter and other with height of 9.0 meter) on top of existing RCC structure.
The pin joints with axis orientation selected in such a way that large beading moments are totally avoided and over all structure remains stable even though is light weight.
The Purlin members (each) again were made from hollow tabular ELW pipes as trusses at specified intervals. The Most for the cone was supported by 4 radial structure at specified height and specified fit angle.

Fabric

The leading type III high density 02 PVS coated Tensile fabric non weldable was selected keeping in mind wind loads - fabric life expectancy Cost analysis. International Tensile Fabric from renowned mfg. (Serge Ferrari, Mehler, Sioen (manufactured in Europe), Hiraoka (manufactured in Japan) were considered.
The PVC coated fabric Reinforcement, as from the non retractable light weight fabric structure analysis from the result of FEM Analysis was carried out for almost top 30 meter from the cone ring.
The special Designed imported polycarbonate clear cap over the Tensile Fabric Structure in conical form insured the sufficient direct sunlight all along the day time.

Installation

Highly trained Installation team equipped with top end safety equipments (Ropes, Safety Harness, Mountaineering Ascenders, Descenders) erected the structure & was called again to install the Tensile Fabric Structure over the primary steel structure. The each of the model now almost 2500sq. ft. each weighing 300kg along with beil ring was lifted to 24 meters above the swimming pool floor in the open air without taking help of cranes.
The fabric was fully and perfectly stretched with help of hydraulic equipments at site in Mumbai, India.

Achivements

No cranes were used for the whole project of installing Tensile Canopy Structure for swimming pool and pool stands at Stadium. Designed for State - National - International – School - College events.
The swimming pool covered with tensile fabric (hyper anticlastic fabric) was executed in 110 days with artistic roofing solutions and difficult site conditions (it was a public area with other sports facilities).

| | |
| --- | --- |
| Project Engineer | Aakruti Tenso Structures & Façade Pvt. Ltd., Mumbai (Including design, fabrication And installation. |
| Client | B.M.C.G.M. Mumbai |
| Date Year | Nov 2015 - March 2016 |
| Requirement | Stadium for swimming pool viewer gallery |
| Span | 20 meter with length 200 meters overall length (Approx) |
| Design | Design detailling Team , Aakruti Tenso structures & Façade Pvt. Ltd. |
| Fabrication | By our team of enginners & craftmen at our Fabrication shop, & at the site |
| Installation | In house team from Aakruti Tenso structures. |