Food Court Raipur.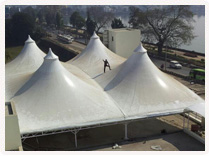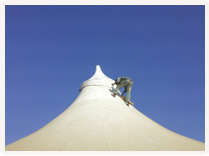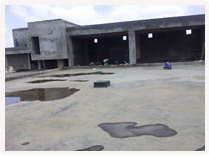 | | |
| --- | --- |
| Project Engineer | Aakruti Tenso structures & Façade Pvt., Mumbai, Maharastra. |
| Client | - |
| Date/month of installation | 25th August 2013 |
| Requirement | Food court, tensile Fabric canopy |
| Size | 12000 Sq. ft. |
| Span | 25 meters X 40 meters plus walkway & kitchen Area |
| Design | Design detailling Team, Aakruti Tenso structures & Façade Pvt. Ltd. |
| Fabrication | By our team of enginners & craftmen at our Fabrication shop. |
| Installation | Inhouse team from Aakruti Tenso structures. |

Requirements

A well known Retail Chain Brand, setting up 40,000 sq. ft plus independent structure at one of the most scenetic location in Heart of Raipur, wanted to develop Multi-Brand food court on the Terrace.
In 1 st Phase, Half terrace of roughly 12000 sq. feet is to be developed.
Challenge

The Chellenge was to offer a stable structure for other wise windly location with rough Landscape facing a Huge Lake. The Structure being build for the Retailing had under gone lots of changes. Specially a whole Floor Plate was added on existing columns as a after thought once the basement & columns were casted.
At the Time when Aakruti Tenso was appointed to Design, develop, Fabricate suitable Tensile fabric Roof for the Food court, the Terrace was already casted & final water proofing was being carried out.

Area

The Total open Area to be covered was roughly 1080 sq. meters or 12000 sq. ft.

Solution

We decided to transfer all the loads directly to existing columns ( projecting out above the Terrace level by 300 mm ), without disturbing beams or slabs. There were only 3 intermediate columns present with 12 peripherial columns.
We proposed a form which was Combination of a Vault & Large span Cones, avoiding a flat Fabric regions usually unavoidable in case of cones with Rectangular Base. A walk way was introduced to connect staircase to the main Food court over seeing scenatic lake. A kitchen Area in Multi point Hyper fabric form ensured enough ventilation.

Design /Analysis

Hence the Food court with 4 connected cones ( Twin cones, 2 sets ) having inclind mast supporting beil Ring., walkway, & Kitchen Area were integrated into a single Design form.
Detailled Analysis of the structure was carried out with Internationally acknoledged FEM software,. In absence of Local codes for Governing construction of Tensile membrane structures, British standards were followed to generate wind loads depending on geometry, height of structure, height from sea level, dist from sea, surface roughness, tropology, etc. The wind pressure for wind speed of 110 km/Hr, followed by various factors to take care of the variable mentioned above were used.
Once structure was analysed, the dimensional detailling of each individual structural members were carried out after STAAD analysis depending on the max. load generated in load combinations.Auto cadd 2011 was used for Detailling- drafting purposes.

Primary Structure

The primary structure was Fabricated from 20 different Trusses made from tubular sections of various sizes ( ERW pipes C class Tata ), as the beams. where as vertical columns were fabricated from round holllow section of 219 mm dia X 8 mm thickness. The extra Long radial members supporting the mast were Dia 165 X 6.4 mm pipes ( Pinned Joint ).
The top ring Dia 1500mm supported on Dia 165 mm Mast which in turn was supported by 4 radial struts mentined above. The Beil Ring cap was also Fabricated in form a Mini Cone from the same Fabric.

Fabric details

The Ferrari 902 S, PVC coated fabric was patterned Radially in all 30 / 36 patterns, depending on the size of the cone .To absorb higher stresses towards the Ring center the fabric was reinforced with another layer of 902S membrane patterned in floral shape.
The fabric was fixed on the Top edge of the Beams with the help of clamping stainless steel strips of 40 mm X 8 mm, separated by Neoperene rubber Gaskets, with help of M10 X 60 Nut- Bolts. The fabric was clamped to the central Beil Ring with help of Stainless steel Nut bolts.

Installation

The Foundations on top of the Columns were fixed with Help of Hilti Make mechanical fastners. The steel structure was fabricated at the site . The heavy members were handled manually with help of Tools & fixtures. ( Crane access was not possible ). The fabrication was completed in 6 weeks.
Local Vendor was Appointed to carry out epoxy coating Painting.By the time the Painting was completed the Fabric fabrication process was side by side completed in 2 weeks.
The fabric was delivered at site. Now the challenging Task of lifting Volumous, heavy 1200 Kg fabric to the Terrace level without a crane was taken.The fabric in packed condition travelled to the Ring top almost mannually in 7 days. Once on top fabric was fixed to beil rings initially . The edges of the fabric were clamped on top of beams subsequently. The fairly routine process of lifting beil ring was under taken to stretch the fabric to designed Pre- tension.
The walk ways & the kitchen Area posed no great chellege. The edges of the connecting fabric were sealed to ensure water tightness.

Achivements

The project was completed well within time span of 45 days.The steel structure was installed at site in 7 Days even in unfavourable conditions. The Fabric Installation was carried out in Rainy whether.Final fabric Installation took just 72 hours back to back.