Sunshine Developers, Mumbai.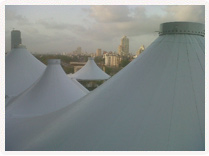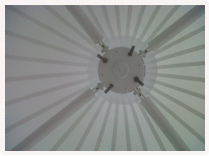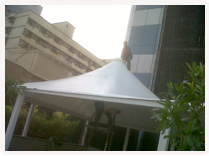 | | |
| --- | --- |
| Project Engineer | Aakruti Tenso structures & Façade Pvt. Ltd. |
| Client | Sunshine Developers, Mumbai. |
| Date/month of installation | Mar-12 |
| Requirement | Terrace top Cafetoria for BPO staff |
| Size | 315 Sq. Mt. |
| Span | overall span 25 mt. X 40 mt. |
| Architectural Design | New Arch Designs. |
| Fabrication | By our team of enginners & craftmen |
| Installation | Inhouse team from Aakruti Tenso structures |

Background

The Tower located at central Business district in Mumbai( lower Parel- worli), is unique all steel structure Fabricated in Imported Tubular members imported from Japan.It has Roof Top cafetoria for its employees of member companies.
As it is most happening commercial hub in the town, the property prices are really steep. The Tower has comparitively small floor plate size. The space is designed for BPO,multi- nationals to operate almost independently.
Requirements

The tower has attached car parking building , 6 levels tall ending with a 4000 sq. ft. Terrace. ,The Landscape Architect, Mr. Hrishikesh Phadke M. Arch from New Arch Designs has proposed Tensile Canopies for the semi open cafetoria & meeting joint. He has proposed series of inter connected cones spaced jaggered keeping orientation constant along one axis.
The steel structure was proposed to be Square section ERW pipes of constant dimension immaterial of cone size , keeping overall geometry constant.
Challenge

Challenge was to transport steel members to the Balcony as the whole building was in finished condition, with Tower crane removed & no space around the building to arrange for a heavy duty hoist.

Area

In all series( seven) of Interconnected Tensile fabric cones having total Developed Area of 3200 sq. ft.

Design /Analysis/ solution

We after FEM analysis in softare following german codes for generating wind co-efficients, with wind pressure factored for distance from sea level, topography, & surface roughness. For the largest fabric structure of 8 mt. X 8 mt. the beam size with the worst load case was calculated to be 150 X 150 X 6 mm sq. ERW hollow section.

Primary Structure

for uniformity all the structural members for all the canopies were selected to be 150 X 150 X 6 mm. The materail were transported through ramp up to 5 th level & then to 6 th level manually one at a time.
The Fixed edged cones with the bell Ring at centre supported on 4 Radial Trusses each fabricated from 155 Dia class C pipes with a central junction box. Again the mast supporting the Bell ring is made adjustible in height for pre- Tensioning & ease of installation.Care was taken , so that the tensile Fabric does not touch the Radial strusses at all so that geometry is not disturbed.

Fabric details

The Ferrari 902 S , Type2 PVC coated fabric was patterned Radially in all 32 parts/ 24 parts , depending on the size of the cone .To absorb higher stresses towards the Ring center the fabric was reinforced with another layer of 902S membrane patterned in floral shape .
For fixing the fabric edges to structural members , Stainless steel 6 mm strips were used in combination with Neoperene rubber Gaskets.
Installation

As the structure was divided in 7 small parts , installation & subsequent pre -Tensioning was an easy affair. The Tensile fabric installation process was acomplished in 6 working days.