Tensile Fabric Structure Roof (canopy) for courtyard at Top CBSE World School at Raipur Chhatisgarh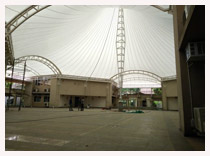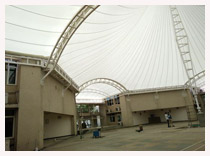 Requirements

An Leading Corporate House in Chhattisgarh, India with presence in North & central India having interests in Structural High Tensile Steel, Architectural products like Plywood, Laminates etc., also operating International CBSE school with State Of Art Sports infrastructure like Basket ball court, Swimming Pool, Cricket Stadium, Football Court, Badminton Court, Amphitheater etc. as part of CSR corporate policy . They were looking for covering open to sky Court Yard - Atrium measuring almost 25000 sq. ft. surrounded by Admin Buildings, with help of Modern Roofing Media. Artistic roofing solutions, like Tensile Membrane Fabric and Glass Structure Roof were their first preference. Tensile Fabric Fabricator Team Aakruti Tenso was to ensure a Design to gel well with overall Architecture of the Campus.
The existing Buildings of CBSE School in Raipur campus were mainly Ground + one Structure with sloping roof cladded with Mosaic (Red) tiles. The adjoining court yard was square with added 4 extensions. It was expected that the additional forces generated due to the Modern Tensile Fabric Structure being proposed, should not be beyond a safe load and wind limit which was quite low considering smaller primary structural size considered at Design stage .
Challenge

We worked on number of designs with Trusses fixed all along the periphery of the existing structure. A large steel structure originating from outside the courtyard behind the school building structure, along with a Central mast was suggested by their in-house architects. It was even considered tilting the mast in the North direction to get maximum sky light with Fabric shade structure roof all through the year.
The structural consultants were not ready to put additional loads on the existing RCC structure. Separate foundations/Footings were not possible as there were Tie beams casted connecting all the RCC columns just below the Ground level. After lots of permutations and combinations, Aakruti Tenso Design team managed to convince the Structural Consultants, In House Architects to clear the proposed Retractable Tensile Fabric Canopy Structure having Modern cone + hyper anticlastic fabric and lightweight Structures along with Gutter arrangements. Our Tensile Structure Fabricators team introduced Gutter towards the existing Buildings with good infrastructure of the CBSE School to flush out rain water. We connected 4 large passage including stage, making it Large single mast Structure.

Area

Gross developed Area of the non-retractable Tensile Fabric Canopy structure at Raipur, Chhattisgarh is 28000 sq. Ft.

Solution

Smart use of Ball (Universal Joint - for the Mast & Pin joints at most of the Truss junctions, we managed to keep Bending Tensile Membrane Moments at much lower limits keeping rest of the Parameters same. Steel sq. Hollow section, Wall brackets were fabricated supporting the peripheral Trusses at much lower levels on the RCC beams. We used Light Weight Non-Retractable Tensile Structure Roof - where major loads were transferred to junction of column, beam, & sloping Roof where over all RCC section is sufficiently stronger.
Conical design form, measuring 45 meters across, with Mast height of 20 meters on Ball Joint ,where Large deflections under wind force were handled with help of embedded Steel Wire Ropes and Cables - 8 nos. running from the central 4.0 meters Diameter Beil Ring to the outer steel structural boundary.

Design / Analysis

In summer, Large temperature difference during the day give rise to High winds in the evening and also the Heavy rains Lashing the region along with cyclonic winds. We have modeled the Tensile Fabric Structure Roof at School assembly Atrium in consideration to Large deflections with FEM software developed specially to Handle Tensile Fabric Canopy Structure, with Complex, Large Span, Light Weight, Anticlastic Design form. 20.0 plus meters height in open air, open terrain, local design codes required suction pressure of 1.35 KN along with Live loads & marginal Thermal loads. The pretensions in the Metal Wire ropes and Metal Cables ensured controlled deflections under worse scenario in 'A' class CBSE Sports focused School in Chhattisgarh, India.
In absence of Local codes for Governing construction of Tensile membrane structures, British Standards were followed to generate wind loads depending on Geometry, height of structure, height from sea level, distance from sea, surface roughness, topology, etc .The wind pressure for wind speed of 110 km/Hour - followed by various factors to take care of the variables mentioned above were used.
Once structure of courtyard of the International school was analyzed, the dimensional detailing of each individual Structural Members was carried out after STAAD analysis depending on the max. Load generated in load combinations. Auto cad 2016 was used with the purpose of Detailing - Drafting, for the proposed Tensile Fabric Roof Shed.

Primary Structure

As per our Tensile Structure Fabricators Architectural Plan, the structure was octagonal in shape, with 4 extensions in all the 4 principle directions. Out of 8 sides of an octagon, 4 sides were made by fabrication Steel Truss with 4 Square hollow pipes 150 X 150 X6 mm , with provision for Gutter, passing through the hollow core. This Truss was fixed to existing Beam with help of HILTI Chemical Fasteners through 20 mm base plates welded to the sides of the Truss.
The other 4 sides were made by Curved fabricated ERW round pipes of various diameter. Truss connecting 2 Admin buildings corners & the 4 wall truss ends with Pin joints (Axis vertical). The curvature ensures enough curvature in the Tensile Fabric Canopy Structure, which otherwise had tendency to flatten out as it progresses away from the central mast. The Stage Area & Lobby Area of the CBSE School - attached to the cone were fabricated 2D /3D truss combinations ending on 4 smaller gutters.

Fabric details

The Serge Ferrari 902 S 2, both sides PVDF coated PVC fabric was patterned in Radial Directions - in all 64 patterns. To absorb higher stresses towards the Ring center the fabric was reinforced with another layer of 902S2 Membrane Fabric - patterned in floral shape.
Aluminum kedar profiles were used to fix fabric along all its fixed edges. The fabric being Large, was split in to 2 parts of 14000 sq. Ft. Each, which was clamped at site with help of powder coated Aluminium and Steel clamping plates with S.S. fasteners. The fabric was clamped to the central Beil Ring with help of Stainless steel Nut bolts.

Installation

Local Vendor was Appointed to carry out epoxy coating/sand blasting & subsequent Painting of roof of lightweight tubular steel structures with Tensile Fabric Structure Roof cover for the Courtyard of International School. By the time the Painting was completed at the proposed site, the fabrication process of Tensile Fabric Membrane on RF Fabric Welding machine was side by side completed in 2 weeks.
The PVC coated fabric was delivered at site (CBSE School in Raipur, Chhattisgarh, India) from Mumbai. The conical-hyper combination with anticlastic Design, fabric almost weighing 3000 Kg, once assembled.
It was slow & difficult task of lifting the conical -hyper anticlastic fabric to 20meters level in open air along with ring dia of 4.0 meters weighing 1000 kg. The PVC coated fabric from Mumbai to Chhattisgarh in packed condition travelled to the Ring top almost manually in 7 days. Once on top, the anticlastic fabric was fixed to beil rings initially. The outer edges of the Tensile Fabric were fitted with Heavy Kedar profile which in turn was bolted on top of beams. The fairly routine process of lifting beil ring was under taken to stretch the PVC coated fabric to pre designed Pre- tension.

Achivements

Very lightweight structure, weighing less than 10 tons for 28000 sq. Ft. Covered Area i.e. courtyard of top CBSE International School at Raipur Chhattisgarh was completed in 75 Days from start to finish. The seamless space created below is truly delight for an creative Architect with seam lines running towards tall centre giving illusion of a Tunnel in the upper part of the special structure.

Project Engineer
Aakruti Tenso Structures & Façade Pvt. Ltd., Mumbai
(Including design, fabrication and installation)
Client
****** ( As part of Non Disclosure Agreement terms )
Date/month of installation
25th August 2017
Requirement
Court Yard for CBSE SCHOOL
Size
28000 SQ. FT.
Span
40 TO 60 METERS ACROSS
Design
Design detailing Team: Aakruti Tenso structures & Façade Pvt. Ltd
Fabrication
By Aakruti Tenso team of engineers & craft-men at our Fabrication shop & at the site
Installation
In-house team from Aakruti Tenso structures & Façade Pvt. Ltd.