Aakruti Tenso Structures & Facades Pvt. Ltd. is an India based company engaged in the designing, manufacturing and installation of retractable tensile membrane structures, Retractable tensile canopies, retractable Tents and complex glass facades.
Established by an Indian team of experienced architectural and structural designing, & Roofing Fabricators experts, we have quickly become the Leading roofing contractors of choice for tensile and Canopy structures Clear Span Tents, and canopies Pan India.
Our designs forms are inspired by nature and crafted by tensile technology. Through the application of sophisticated machinery and an array of architectural Tensile Fabric Canopy designing FEM software, a team of highly skilled designers and craftsmen create a wide variety of forms [form finding], design and structures using Technical tensile fabrics.
Aakruti Tenso's 20,000 sq.ft designing, manufacturing and fabrication facility near Mumbai, India is capable of developing large scale intricate tensile membrane(canopy) structures, fabric tents, shade sails, canopies, fabric gazebos in parks and other retractable tensile membrane/ retractable fabric structures which are lightweight and can be erected in a reasonably short time span. Our tensile fabric patterns and welding department uses automatic PLC controlled/ CNC machines for fabrics, CNC plotting and cutting systems.
Tensile canopy structures are fast becoming the permanent roofing solutions of choice pan india . Tensile canopy substitute awnings due to their flexibility, lightweight nature, wide applications in outdoor sites, ease of installation and dismantling as well as customization in terms of shape and durability. Our technical and designing expertise and speed of execution, coupled with prompt service and support ensure that architects, builders and structural consultants, fabricators always prefer to work with Aakruti Tenso.
We offer peripheral tensile membrane (canopy) fabric structure solutions through our elaborate planning, designing and execution stages: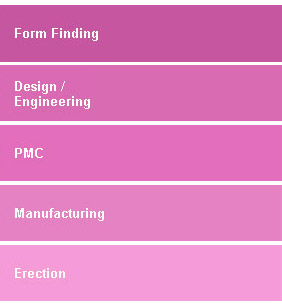 Our expert consultants, engineers, designers and craftsmen, fabricators bring your structural requirements to life by striking a balance between functionality and aesthetic appeal by using the best tensile canopy fabrics and structural roofing expertise, thereby creating architectural masterpieces that spell designing and manufacturing excellence.
The 40-member team of professionals at Aakruti Tenso is led by Mr. Anil Shah (Director) who holds over 20 years of working experience with fundamental architectural and designing materials such as glass, stone, metals and, of course, Retractable Tensile membrane fabric etc. media.
Aakruti Tenso stems from our forward integration efforts at Aakruti Glass, which is engaged in the business of designing and manufacturing of architectural decorative glass and processes like Manufacturing, fusing, slumping, casting, bending, toughening, etc since last 20 years.
Having successfully collaborated with several eminent architects and designers for more than 1,000 residential and commercial projects, we have installed more than 350,000 sq. ft of value added glass pan India.
Together Aakruti Glass and Aakruti Tenso offer a unique combination of futuristic architectural products and services as the two media and technologies are closely linked and can be fused together quite harmoniously.

"To become undisputed Thought Leaders in Tensile Fabric Architecture in India."

To EDUCATE CUSTOMERS & STAKEHOLDERS THROUGH VARIOUS MEDIUMS, BUILDING TEAMS, Develop In-house Design & Technology centre, & worldwide alliances and distribution networks, so that Architects, fabricator & developers can construct breath taking landmark projects through our nature-inspired, free-flowing innovative tensile Fabric architecture.

Commitment to excellence in product quality and making one-stop technical expertise available to the architects, and civil structural infrastructure sector is our primary goal at Aakruti Tenso. In order to ensure that all our designs and structures are in accordance with the requisite standards and policies, our in-house quality control team (consultants, engineers, designers and craftsmen, fabricators) rigidly monitors each project at every stage of the manufacturing process, right from conceptualization, to raw material procurement and final-stage erection and post-completion maintenance.

Conceptualizing, designing and manufacturing of tensile canopy structures and fabric canopies are as much of an art as a science. We therefore purchase from one of the best manufacturer and employ highly skilled structural engineers, architects, fabricators and tensile fabric artisans at our designing studios situated in Mumbai, Maharashtra, India.
Our Team (structural engineers, architects, fabricators and tensile fabric artisans) is equipped with state-of-the art software to ad Engineering Processes like
Form - finding.
Patterning and nesting.
Enhanced detailing for superior tensile membrane and fabric quality.
Finite element analysis (FEM)
Non Linear Stress analysis and deflections under various load conditions for membrane structure.
Structural analysis for metal structures.
Our 20,000 sq.ft tensile and membrane structure tensile manufacturing facility near Mumbai, India employs over 40 experts that use highly sophisticated software and machinery and advanced facilities for manufacturing tensile fabric materials
We also have in-house Facilities that include
Automatic PLC controlled machines for fabrics
CNC plotting
Cutting systems

Fabric patterning
Fabric Welding