Aakruti Tenso-Tensile Structure Fabricators-Basket Ball Court-International school- Bhopal-Madhya Pradesh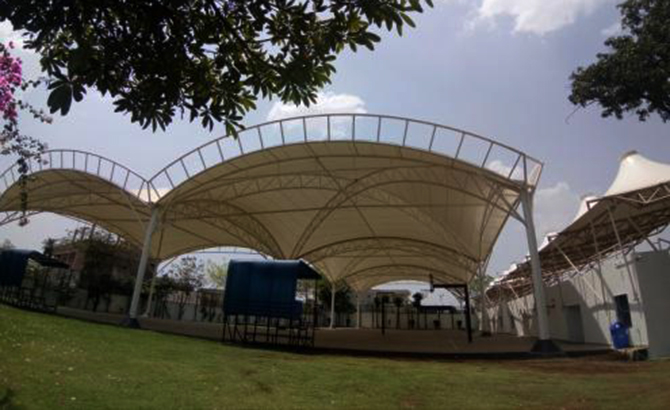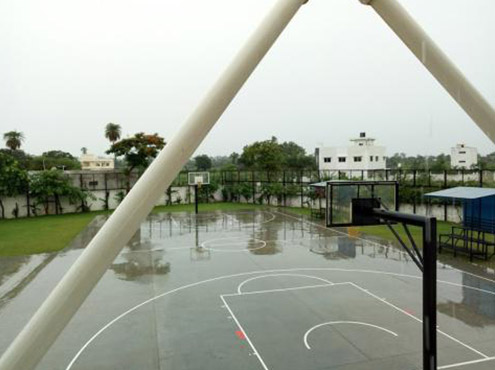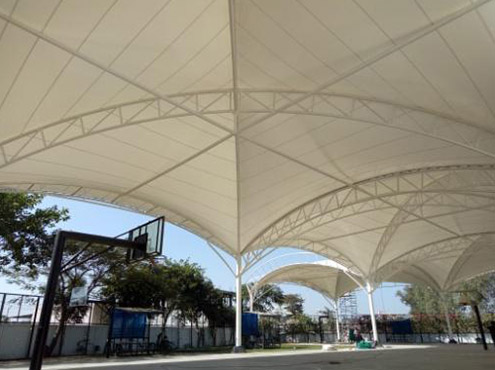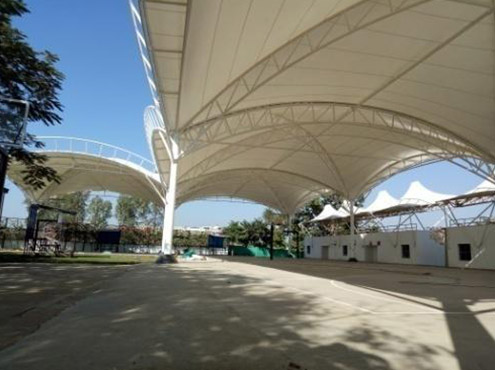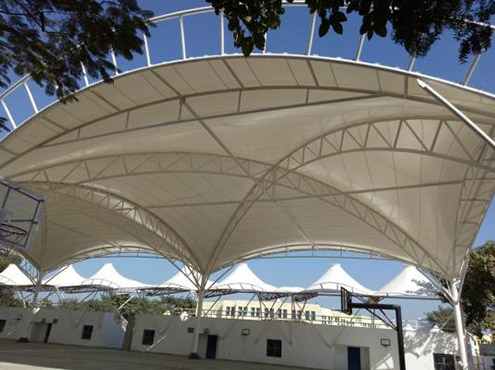 Requirements

An International School in Bhopal, Madhya Pradesh having sprawling campus consisting a Football Stadium, Kinder Play area, Basket Ball court, Boxing Rink, Swimming Pool etc.
As they already had wonderful experience with us the Tensile Structure Fabricator – Team Aakruti Tenso started designing of Tensile Structure for Basketball Court of approx 15000sq.ft.

Area

The area, which was open - about 15820 sq.ft. measuring 18mtr X 36mtr approx – 2 courts

Design / Analysis

Detailed Analysis of the structure was carried out with internationally acknowledged FEM software. In absence of Local codes for Governing construction of tensile structures for applications like Tensile Canopy for Stadium, Swimming pool, Toll plaza, Play Area, Walk ways, Car Parking etc. British standards were followed to generate wind loads depending on geometry, height of structure, height from sea level, distance from sea, surface roughness, topography etc.
Once structure was analyzed, the dimensional detailing of each individual structural member were carried out after STAAD analysis depending on the max. Load generated in load combinations. Auto cad 2016 was used for drafting purposes.

Primary Structure

The primary structure in Bhopal, Madhya Pradesh was developed with hollow tubular sections along with plates, fasteners, wire ropes keeping Architectural aesthetics in mind.

Fabric details

The Tensile Fabric used for the Basket Ball court was German make Tensile Fabric Mehler FR900, PVC coated type II fabric was patterned in perfectly matching square cuts in all 52 parts each module of Tensile Canopy, to absorb higher stresses towards the center point.

Installation

The Installation was delayed thanks to post monsoon Rains on almost daily. Hence it was very important to start installation on a fairly clear early morning & wrap up installation along with major pretensioning by evening. In about 6 days, the membrane was erected at site successfully.
2 100Ton cranes with height of 35 mtrs were used to erect the fabric on the ready structure in Bhopal, Madhya Pradesh.

| | |
| --- | --- |
| Project Engineer | Aakruti Tenso structures & Façade Pvt. Ltd. |
| Client | ******** |
| Date/Month of Installation | Feb 2018 |
| Requirement | To cover Basket Ball Court |
| Size | 15820 sq. ft. floor Area |
| Span | 18 meters X 36 meters – 2 no.s |
| Design | Aakruti Tenso structures & Façade Pvt. Ltd. |
| Fabrication | By our Tensile Structure Manufacturer team of Engineers & Craftsmen |
| Installation | In-house team from Aakruti Tenso structures |