Tensile Structure manufacturer at Educational Campus Indore, Madhya Pradesh for Swimming pool Area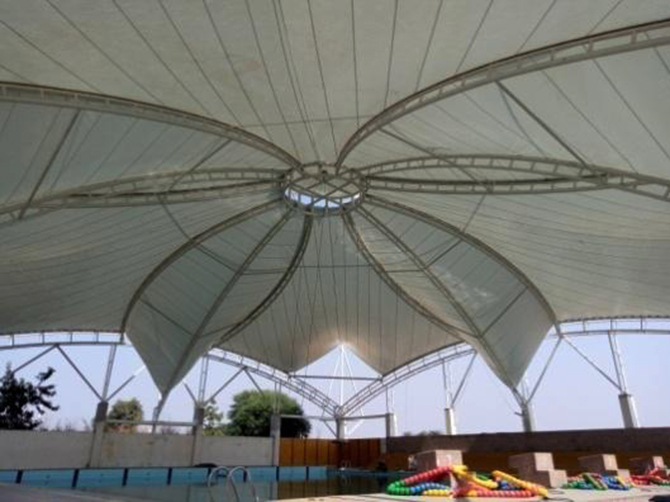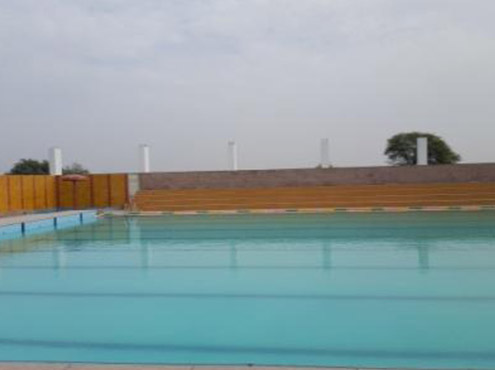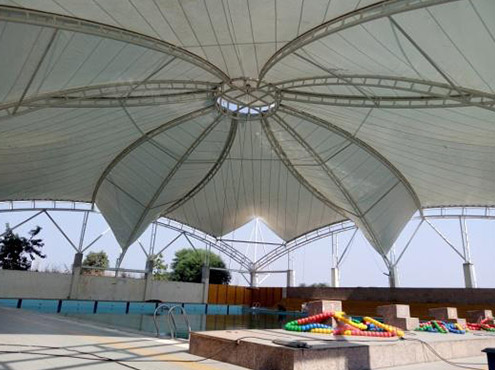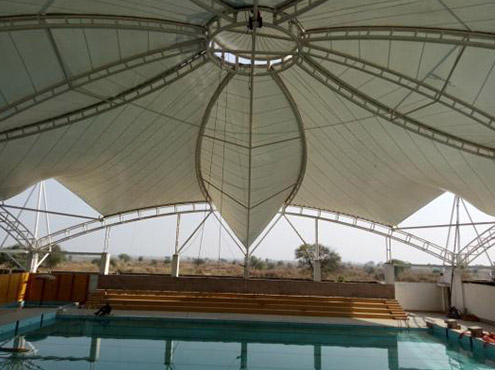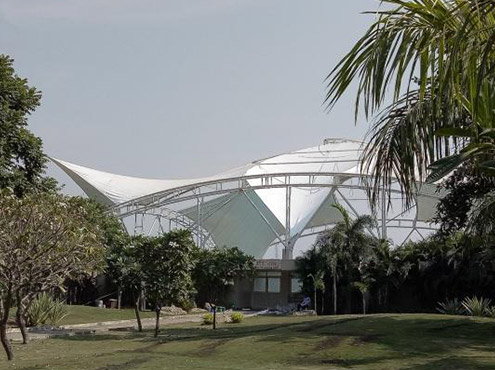 Requirements

A swimming pool for Diving and for interschool and State level competition and Tournament in school at Indore, Madhya Pradesh. Girls were not ready to enter in pool due to UV rays of sun that makes skin dark apart from other chemicals in Swimming Pool water.
The requirement now was to cover the Swimming Pool with PVC coated fabric which Enhance Ambience and contemporary looks along with protection against harsh Sun UV rays.
Challenge

The design which was selected for the swimming pool was in flower pattern. The area of swimming pool does not have any access to large cranes from any of its 4 sides for material handling, steel structure & Tensile Fabric erection as required as we progress on execution of the said project.

Area

Plan area of This Non - Retractable Tensile Fabric Structure Swimming pool Roof at Indore Madhya Pradesh is 18040sq.ft.

Design / Analysis

The Tensile Structure Fabricators team selected the flower petals as a design form for Swimming pool. Tensile canopy is very common for Toll Plaza, Food Court, Stadiums, Walkways, Courtyards, Airport Entrance, Car Park, etc.

Primary Structure

Our Tensile Structure Fabricators team fabricated 3D trusses made of circular Hollow ERW pipe with YST 240. The pin joints with axis orientation selected in such a way that large beading moments are totally avoided and over all structure remains stable even though is light weight.

Fabric

The leading type III high density 02 PVDF coated Tensile Fabric non-weldable was selected keeping in mind wind loads - fabric life expectancy Cost analysis. International Tensile Fabric from renowned mfg. (Serge Ferrari, Mehler, Sattler, Sioen (manufactured in Europe), Hiraoka (manufactured in Japan) were considered.
The special Designed imported polycarbonate clear cap over the Tensile Fabric Structure in the middle insured the sufficient direct sunlight all along the evening time.

Installation

Highly trained Tensile Structure Manufacturer team equipped with top end safety equipments (Ropes, Safety Harness, Mountaineering Ascenders, Descenders) erected the structure & was called again to install the Tensile Fabric Structure over the primary steel structure. The fabric was fully and perfectly stretched with help of hydraulic equipments.

Achivements

No cranes were used for the whole project of installing Tensile Canopy Structure for swimming pool.
The swimming pool covered by Tensile Structure Fabricators with tensile fabric (hyper anticlastic fabric) in petal shapes and was executed in 110 days with artistic roofing solutions.

| | |
| --- | --- |
| Project Engineer | Aakruti Tenso Structures & Fa�ade Pvt. Ltd., Mumbai (Including design, fabrication And installation. |
| Client | ********** |
| Date Year | July 2017 - Nov 2017 |
| Requirement | Covering for swimming pool viewer gallery |
| Size | 16040 Sq.ft |
| Span | 39 meter with length 39 meters overall length (Approx) |
| Design | Design detailing Team, Aakruti Tenso structures & Fa�ade Pvt. Ltd. |
| Fabrication | By our Tensile Structure Fabricators team of Engineers & Craftsmen at our Fabrication shop & at the site |
| Installation | In house team from Aakruti Tenso structures. |