Tensile Canopy Toll Plaza - Tensile Structure Manufacturer near Udaipur Rajasthan

Aakruti Tenso - Tensile Structure Manufacturer of Tensile Canopy for Toll Plaza near Udaipur, Rajasthan.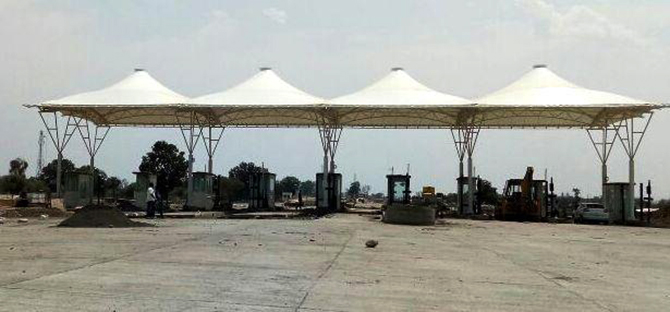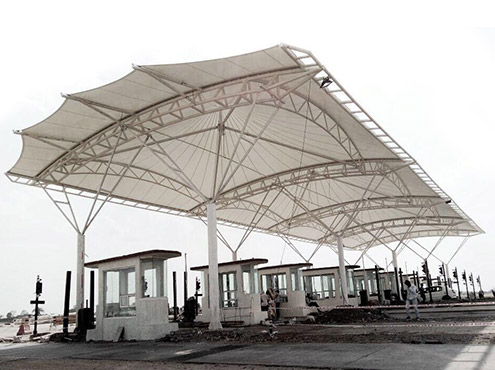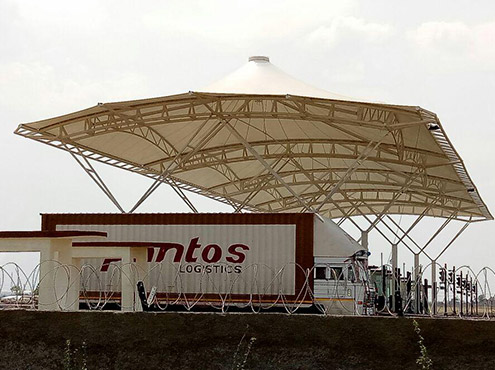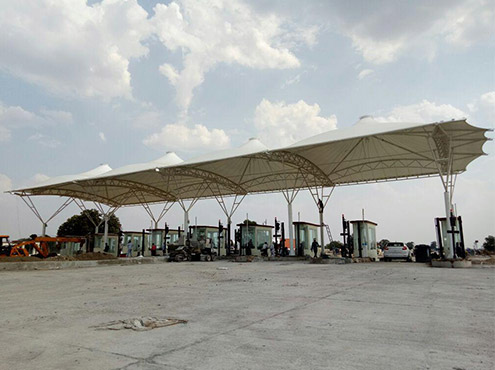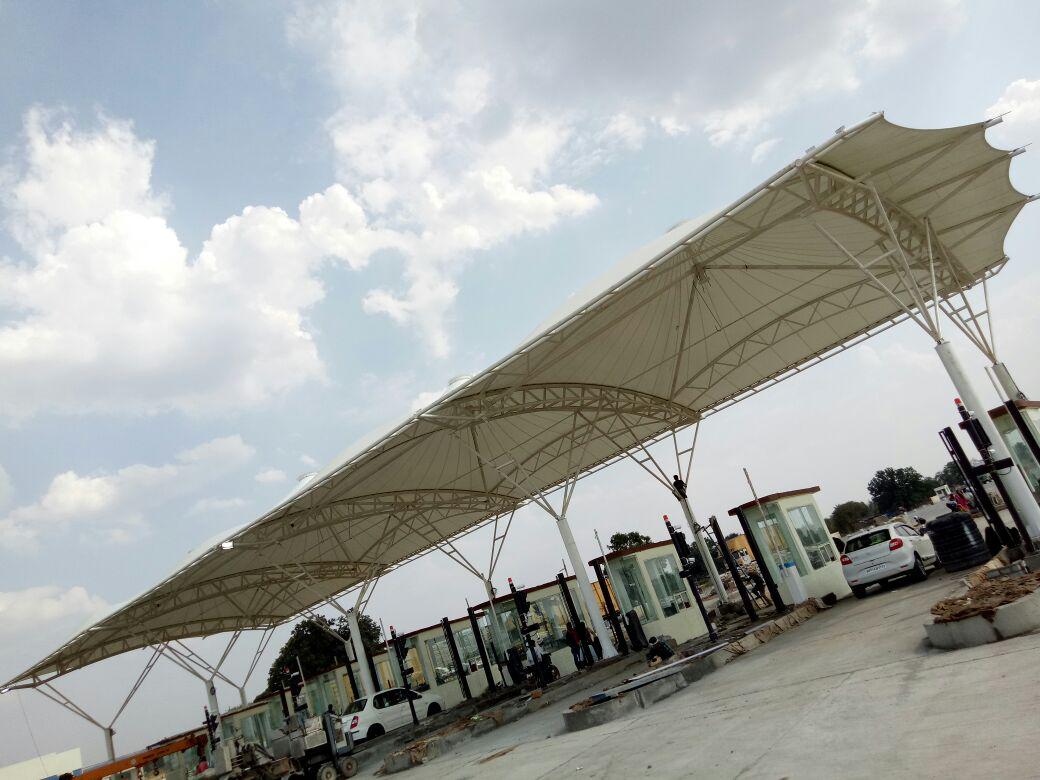 Requirements

With the limited timeframe available, Tensile Structure Fabricators - Team Aakruti Tenso must design, Analyze, Fabricate, Install a large span 16mtr* 45mtr(approx 1583 Sq.mt - 2 Sets) with a Tensile Roofing structure.
Challenge

The challenge here was to complete the whole project right from basic planning to finishing touches on execution, in very limited period.

Area

The Total open Area to be covered for Tensile Canopy Structure in Udaipur, Rajasthan was marked roughly to be 1583 sq. meters.


Design / Analysis

The design form which was selected for the Tensile Structure of Toll Plaza was Tensile Canopy. Once structure was analyzed, the dimensional detailing of each individual structural member was carried out after STAAD analysis depending on the max. Load generated in load combinations. Auto cad 2011 was used for Detailing- drafting purposes

Primary Structure

The Primary structure supporting the Tensile Fabric membrane was Fabricated out of welded ERW Pipes (C class) with section, 150 X 150 mm sq. The overall height of the structure was kept at 5 meters above ground level; the peripheral members were also fabricated from the same sections.

Fabric details

The Ferrari 902 S, PVC coated fabric was patterned radically in all 30 / 36 patterns, depending on the size of the cone. To absorb higher stresses towards the Ring center the fabric was reinforced with another layer of 902S membrane patterned in floral shape. The team Aakruti Tenso - Tensile Structure Fabricators clamped fabric to the central Bail Ring with help of Stainless steel Nut bolts.

Installation

In Udaipur, Rajasthan the fabric was installed on the ready structure with the help of crane. Well trained Tensile Structure Fabricators team has finished the erection and installation of Tensile Canopy within a very limited time with perfection.

| | |
| --- | --- |
| Project Engineer | Aakruti Tenso structures & Fa�ade Pvt., Mumbai, Maharashtra. |
| Client | N H A I |
| Date/month of installation | January 2018 - May 2018 |
| Requirement | Tensile Structure For Toll Plaza |
| Size | 1582.822 Sq.mt. (2 Toll plaza) |
| Span | 45.6mtr X 16.0mtr |
| Design | Design detailing Team, Aakruti Tenso structures & Fa�ade Pvt. Ltd. |
| Fabrication | By Tensile Structure Fabricators team of engineers & craftsmen at site |
| Installation | In-house team from Aakruti Tenso structures. |