Leading Tensile Structure Fabricators at Nasik, Maharashtra for Maharashtra Police Academy - Amphitheater.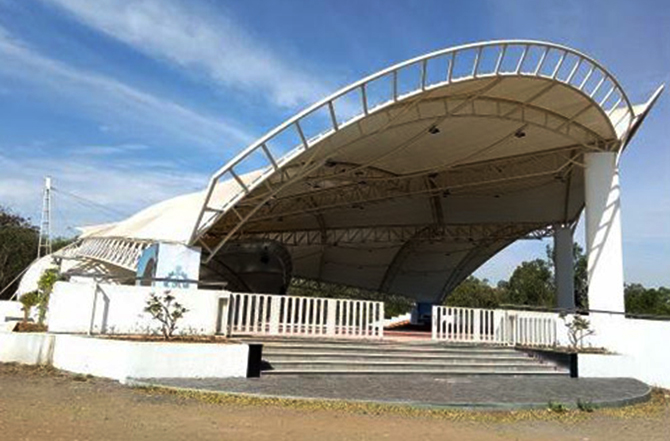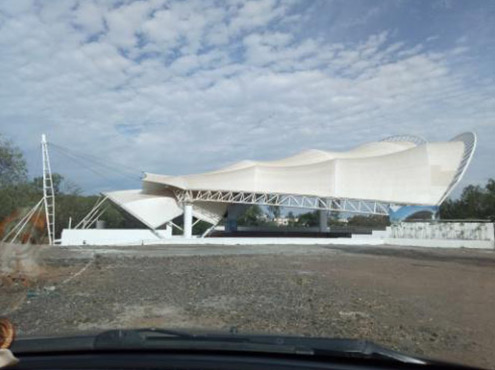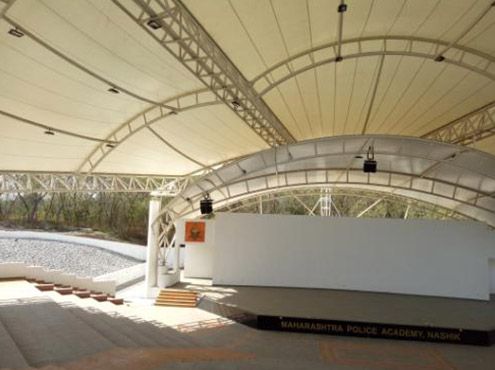 | | |
| --- | --- |
| Project Engineer | Aakruti Tenso structures & Façade Pvt. Ltd. |
| Client | Maharashtra Police Academy |
| Date/month of installation | December 16 |
| Requirement | Amphitheater |
| Size | 21850 Sq.ft |
| Span | - |
| Design | New Arch Designs |
| Fabrication | By our Tensile Structure Manufacturer team of engineers & craftsmen |
| Installation | In-house team from Aakruti Tenso structures |

Requirements

The requirement was to cover an Amphitheater located in spacious police ground at Nasik used for the training of police officers and other government functions. The ground covers the area of approx 35000sq.ft

Area

The Amphitheater was having total Developed Area of 21850sq. ft.

Design / Analysis / solution

Tensile Canopy was not suitable for the Amphitheater so Tensile Structure Manufacturer team decided Vault design form. We after FEM analysis in software following German codes for generating wind co-efficient, with wind pressure factored for distance from sea level, topography, & surface roughness.

Primary Structure

In Nasik, India, the Canopy for Amphitheater state of Modeling and Analysis system simply will not work due to large deflections observed both in the supporting cable as well as in the Tensile Fabric Structure. Vault form enhance the contemporary looks of Amphitheater, Atriums, Basket ball Court, Walkways, Food Courts, etc.

Fabric details

The Precontraint Serge Ferrari 902 S French make, Type2 PVC coated fabric was patterned parallel in all 32 parts.
For fixing the fabric edges to structural members , Stainless steel 6 mm strips were used in combination with Neoprene rubber Gaskets.

Installation

As the Amphitheater located in Nasik Maharashtra was in the open space the installation was easy as compare to Stadium at Andheri, Mumbai.