Akshar Devlopers

| | |
| --- | --- |
| Project Engineer | Aakruti Tenso Structures & Facade Pvt. Ltd. Mumbai. |
| Client | Akshar Developers, Mumbai. India. |
| Date Of Installation | May 2010 |
| Requirement | Entry Gate In Tensile Membrane(fabric)structure For Software Park. |
| Size | 3400 Sq. Ft. |
| Span | 90 Ft.(27 M) , Height 8m |
| Design | Aakruti Tenso Structures & Facade Pvt. Ltd. Mumbai. |
| Fabrication & Installation | Aakruti Tenso Structures & Facade Pvt. Ltd. Mumbai. |


The expansion and upgrade entry gate of Akshar Developers, Mumbai. The individual Fabric Membrane Tensile Structures were designed by Aakruti Tenso Structures & Façade Pvt. Ltd. Mumbai.

The entry gate as proposed by Architect "DARSHAK " (detailed drawing) in its final form, with all Dimensions specified.
Actually the suggested form was not really designed keeping Tensile Fabric Structures In mind. Hence it was a challenging job to achieve the doubly (anti clast) & keeping Final basic form intact. (any major change in design form was rules out).
The main structural columns were ready & installed. Only the design fabrication of Steel supporting structures & design detailing of fabric structure part was pending. To Achieve the final form with 5 high -5 low points, along both long side of the proposed Tensile membrane structure.
The primary steel structure, after FEM analysis of the structure along with tensile fabric, As per Euro code, was design to be a truss with two dia 165mm ? 6mm. Frames, running Parallel to each other, separated by 400mm, center distance. Bracing in form of dia 115 X 4.8mm tubular section at every alternate (3.6mt.) or (12') was provided.
Tensile fabric suggested: Ferrari 702 S polyester fabric with PVDF coated.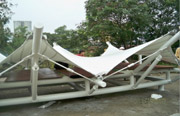 Edges of the tensile fabric were with 10mm dia, galvanized wire ropes with swaged end Fitting in SS 316 forged, machined parts.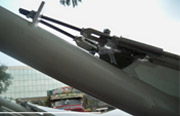 The end plates were designed in foldable butterfly form, to follow natural angle formed by The tensile fabric on installation. End plate of 5mm, thickness & clamping of 3mm. In SS 316 were used.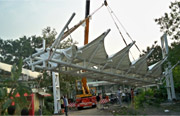 Polyurethane 9mm extruded kedar were used to lock the tensile membrane in end plates.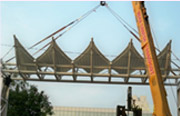 The complete tensile fabric was assembled at ground level on the 'primary structure' Subsequently the truss beam was fitted on main columns using 100'ft. tall crane.